The Best Yoga Teacher Training Courses in Australia
Here you can find the best Yoga Teacher Training courses all across Australia. There are some amazing programs with unique features Down-Under.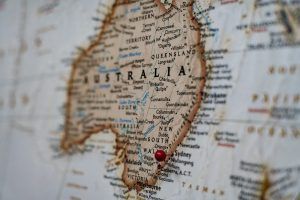 ** Many yoga studios in Australia haven't re-opened yet or are again closed due to COVID-19. This means many schools aren't doing any on-site yoga teacher trainings at the moment  however you can still get your 200 hour Yoga Alliance teacher training certification through an Online program in Australia**
The list of schools you should go through in case you are planning to do a 200 hour Yoga Teacher Training in Australia is below! Browse quickly through this updated list with pricing and duration as well as information about the individual programs.
FIRE SHAPER
With four studios in Australia, Fireshaper has established a unique and successful way to bring people together. Their aim is to break through the conditioned mind and help people become the best version of themselves. The Bikram-style Yoga Teacher Training here is held part-time and a combinations of an immersion and weekend workshops. It's a mix of fundamental sequencing, implementing poses and alignment.
BYRON YOGA
John Ogilvie established Byron Yoga in 1988. It is one of the oldest and well-known yoga teacher training centers in Australia. They run courses across the country including Sydney, Melbourne and Byron Bay.
The course begins online so that you can study at home first at your own pace. After online exercises, studies and videos, you will be prepared for the on-site part. There are many flexible learning options and modules to enhance your skills and help you develop a deep-rooted understanding.
POWER LVING
Their courses are available in Adelaide, Melbourne, Perth and Sydney. What's special here is that Power Living Yoga teacher trainings aim to help you transform personally on all levels.
You begin with one foundational module and then move to the next one. The pattern of the course is easy to understand and well-established.
Part of the training is to integrate analysis of asanas, alignment and history of yoga so that you can begin to teach authentic yoga with a great tool box of skills. After a 7 day retreat in Bali for practice and yoga embodiment, the next module (assist) will help you to begin teaching.
As combination of theory, practice and hands-on adjustment, you will be fully prepared to start your career.
YOGA SOCIAL
Yoga social guides you to infinite possibilities to begin your yoga career. The course is a mix of traditional Hatha yoga but also includes restorative yoga.
You will learn all about the essential yoga philosophy, history of yoga and alignment so that you understand the theory along with the practical part. Yoga teachers who graduate from this program feel grounded, confident and ready to teach.
The courses are held in a playful yet professional and encouraging way, enabling students to interact with each other, grow and explore together.
BODY MIND LIFE
Body Mind Life has created the most stunning studios for your Yoga Teacher Training in Australia. With natural lights, sacred geometry and minimalism, these studios will provide some of the most harmonious spots for you.
The courses are suitable for all levels and everyone is picked up from their current level.Even as a newbie, you will be surprised how much you can grow and learn within a short period of time.
The foundational 200 Hour Yoga Teacher Training can be completed full-time or part-time. It helps you to gain a solid and grounded understanding of yoga and intensifies your practice.
Each teacher here know his/her subject very well and guarantees you to get the full basket of life-changing tools that are needed to move from a student to a certified teacher.